THE MAIN ACTIVITIES:
Expertise of the medicine's quality and correspondence to the specification, which is carried out for the purposes of state registration,

Laboratory quality analysis of imported (also as donation) and exported medicines,

Control of the quality of medicines and other pharmaceutical products sampled during inspections of pharmacies or wholesalers,

Laboratory analysis of medicines and substances by the request of the RA State Administration bodies,

Examination of quality and safety of food,

Bioequivalence study.
The laboratory was awarded with a certificate on quality managment system ISO 9001-2000 by Swiss SGS Company in 2003.
The laboratory takes part in the proficiency test which is held by World Health Organization (WHO) and International Federation of Pharmacists (FIP). 
According to the warrant of acreditation board of December 30, 2008 the laboratory was given the right of performing food quality and biosafety control. 
The laboratory was awarded with a certificate on quality management new system ISO 9001-2008 by "Quality Austria" International Company in December 2010. 
«Analytical laboratory» branch of  the «Scientific Centre of Drug and Medical Technologies Expertise after Academician E. Gabrielyan» CJSC on 21.04.2016 was accredited with ISO/IEC 17025:2017 international standard in quality expertise in the field of pharmaceutical testing (Certificate number AT-2043).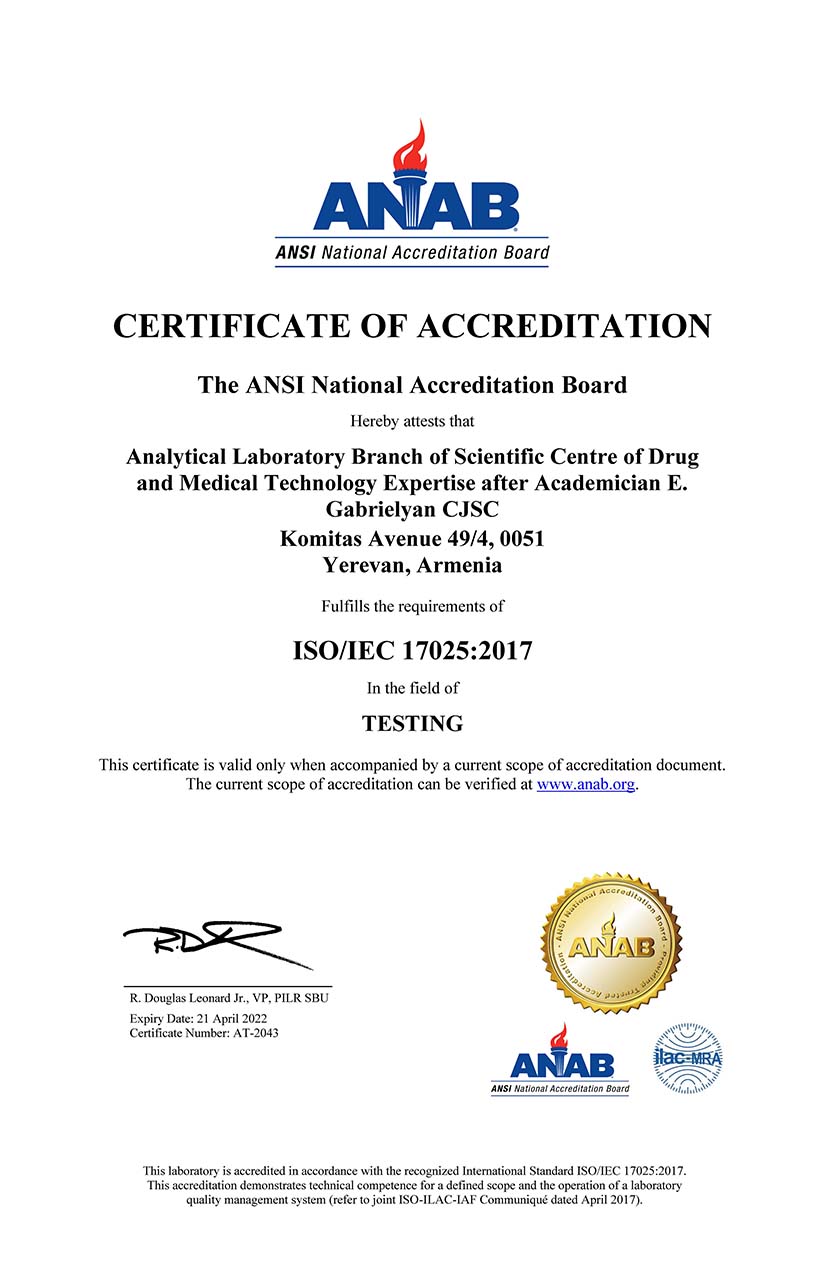 HEAD OF QUALITY CONTROL LABORATORY:
Naira Eloyan
 Biochemistry
Phone: (+374 10) 23-72-61

Komitas 49/5, Yerevan, 0051, Republic of Armenia
E-mail: 
LEGAL BASIS FOR ACTIVITY: